Online Assignment/Homework submission offers a simple and convenient way for teachers to collect, manage, and evaluate student homework assignments. They provide a secure and convenient way for students to submit their work, and they allow teachers to provide feedback to their students quickly and easily. Moreover, online homework or assignment submission make it easier for teachers to view the progress and performance of their students in real-time.
If you're looking for a simple way to handle student homework assignments, then our "Assignment" feature is the solution you've been searching for. Use it for Maths homework, Science Assignment, Unit Tests and more – one basic "Assignment" feature works for all subjects, making it an ideal solution for school. Try it today and see the benefits of using an online homework submission by students.
Online Assignment Submission by Students
When it comes to submitting assignments online, students will find the process to be quite simple and straightforward. All they have to do is complete the homework or assignment, attach the necessary files, and click the "Submit" button. Once the assignment is submitted, the teacher will be notified and can review the student's work.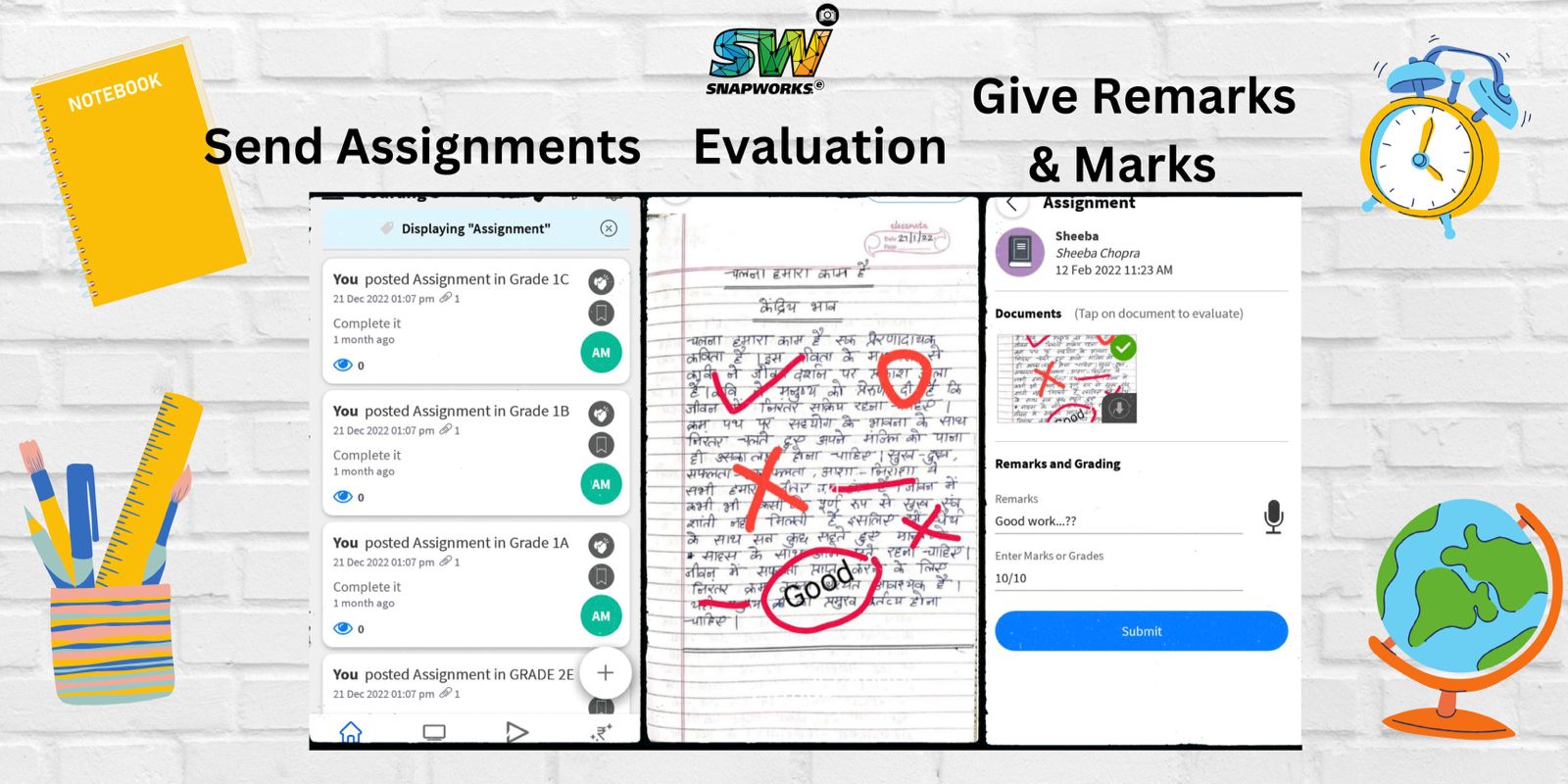 Benefits
Parents are also in the Loop Regarding Homework
Parents no longer have to guess whether or not their children have completed their homework. With the help of online learning, parents can now stay up to date on their children's homework. Notifications are routinely sent to parents regarding the start date, end date, submission status.. This allows parents to keep an eye on their children and parents can easily identify which areas their children need to improve on and help them accordingly. Not only this make it easier for parents to stay in the loop, but it also helps students to become more responsible for their own learning.
Homework Evaluation by Teachers
"Assignment" feature also makes it easier for teachers to evaluate the students' assignments. With the help of the "Evaluate" option, teachers can quickly and easily evaluate the students' assignments. This helps to save time and ensures that the teachers' evaluations are accurate.
Online Assignment submission also makes it easier for teachers to provide feedback to the students. With the help of Audio, teachers can easily and quickly provide feedback to the students. This makes it easier for teachers to identify which areas the students need to work on and help them accordingly.
Online homework submissions are also extremely secure. All the data submitted by the students is securely stored and can only be accessed by the teachers. This ensures that the students' data is secure and that the teachers can access it when needed.
Multiple Devices
"Assignment" is accessible with Web & Smart Phones which helps students to access their education from multiple devices. This makes it easy for students to access educational materials anytime, anywhere. It also provides them with the flexibility to switch between platforms and devices as per their convenience.
Performance Management
Get a detailed report of all students' performance. Performance reports are a great way to assess the academic performance of students. With detailed performance reports, teachers can get an overview of their students' strengths and weaknesses in different subjects. This helps them in providing better guidance and support to their students for holistic development.
Performance reports also serve as a great tool for parents to track the progress of their children in school. It gives them an understanding of how well their child is doing academically and what areas need more focus and attention.
Conduct Online Tests
Taking tests online has become a popular method for teachers to assess their students' knowledge. With the help of "Assignment" online tests can be conducted, teachers can set dates and timers for each test to ensure that all students have enough time to complete it. This also helps them keep track of who has taken the test and when.