A digital canteen system for a school is a software application that automates and streamlines the management of the school's cafeteria or canteen operations. This system can benefit both students and school administrators by improving efficiency, reducing cash handling, and providing better services.
School Canteen with digital payment system is a modern and efficient way to manage and streamline the food services provided to students. It involves the use of digital technology to improve the ordering, payment, and overall operation of the school canteen. It aims to improve efficiency, reduce queues, enhance food ordering processes, and provide better services to students.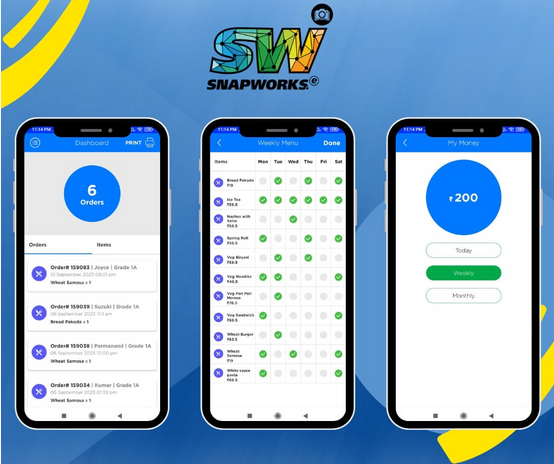 Here are the key features and components of a digital canteen system for a school:
User Registration and Authentication:
User-friendly mobile app where students and parents can browse the menu, select items, and place orders in advance.
Menu Management:
School administrators can upload and manage the daily or weekly menu offerings.
Include details such as food items, descriptions, prices, and nutritional information.
Ordering System:
Users can browse the menu, select items, and place orders online.
School administrators to ensure timely preparation and delivery.
Payment Integration:
Integrate with various payment methods, including credit/debit cards, mobile wallets, or Net Banking.
Ensure secure and seamless payment processing.
Reporting and Analytics:
Generate reports of orders in Processing or Completed.
Generate reports of all order date wise or grade wise.
Order Tracking:
Enable users to track the status of their orders (e.g., ordered, delivered).
Administration Dashboard:
Provide an admin dashboard for cafeteria staff and management to manage orders and monitor system performance.
Mobile-Friendly:
Ensure that the system is accessible and user-friendly on mobile devices, as many students and parents may use smartphones to place orders.
Security:
Implement robust security measures to protect user data and payment information.
Customer Support:
Provide support through various channels for users to report issues or seek assistance.
A well-designed digital canteen system or School Canteen Digital Payment App can streamline cafeteria operations, reduce wait times, and enhance the overall dining experience for students and staff. It can also provide valuable data insights to improve menu planning and customer satisfaction.